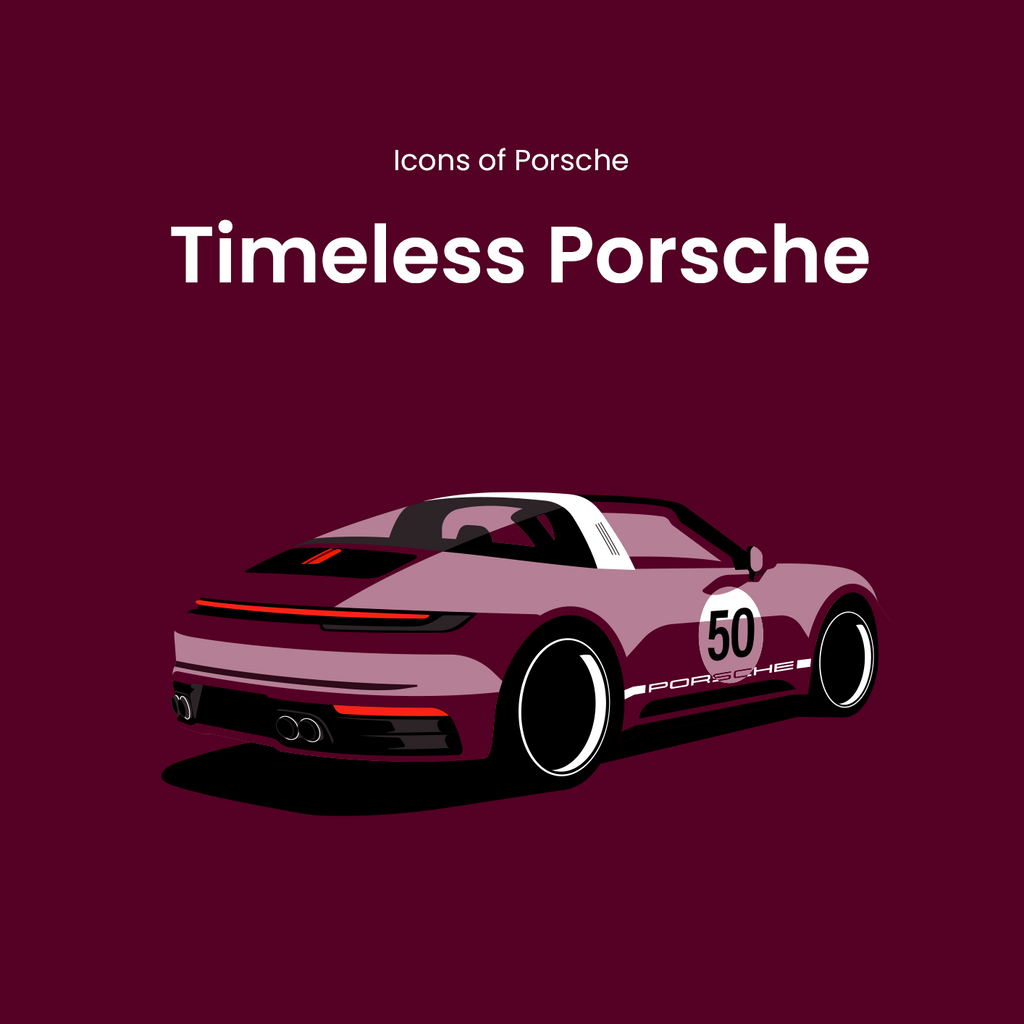 Timeless Porsche
Truthfully, I pinched myself and murmured, BAVZ, let's nail this one!
I mean it when I say no other car stirs my soul as Porsche does. So when asked to design for the coveted Dubai Design District, all I wanted to do was leave a profound experience through the work. 
The initial concept that emerged in my head was to craft a moment of transformation for viewers, both mental & physical, amid a range of startling Porsche's that would get parked one after another at the event. 
Overjoyed like a tiny toddler who had been granted their favourite toy, I accepted the prospect to design a timeless Porsche in blue and white, winding down on roads that tell you it has travelled far to reach you.
Are cars just pieces of rubber, metal, plastic fashioned together? Well, not really, and let's talk about how the Icons of Porsche came to life. 


What was 'Icons of Porsche' about?
Icons of Porsche was a one of its kind event that hosted artists, designers, and automotive enthusiasts from around the world. 
In about two days, thousands of people flocked the arena to embrace, watch, feel the chic galleries exhibiting the work of prevalent up-and-coming designers and artists.
As a designer for the event, I let my belief take over my designing process -- cars speak adventure, but Porsche believes cars also talk about community and culture.
A Porsche's impact on your life would be immense, and if you were to slide your hands on its relaxed hood, the trip down the memory lane would be more than mere luxury. 
You'd be reminded of the varying landscapes on which you've traversed, valleys and mountains under the sweltering morning sun, and coasts stuck at sunset in your memories.
Icons of Porsche was a celebration of the motoring culture in the Middle East region and invited enthusiasts from all over the world to indulge their senses with the images and sounds of the Porsche universe. 
They wanted to establish a sense of belonging amongst car nerds and make Porsche more accessible to the people there. 
Storytelling through car displays and live entertainment, new experiences and adventure remained the central theme.


Dubai and Taycan

Porsche's Taycan, its first fully electric car, is a crowd-pleaser. Despite being powered by electricity, the vehicle is easily the most attractive of the recent Porsche models and is idolized by sports car enthusiasts across the globe. 
When the moment arrived to bring this car to life in the city of gold & luxury, I wanted nothing short of extravagance for it. The ultramodern city landscape demanded a designful play with colours and contrast. 
To justice the 90-year-old legacy of Porsche, I dressed my canvas' backdrop in one of the most spectacular skylines that included the grand oval museum, and the sleek Taycan, was my hero!
The futuristic oval museum that you see in my illustration has poetry in its walls- quite literally, and boasts the best and the brightest technological and design innovations. 
I used it to add texture and reference, adding context by asserting Porsche's relevance in the modern world.
My work was presented as an installation with Taycan wrapped and installed with these surrounding elements.


Targa in the desert

Another artwork that adorned the galleries of the festival was Targa in the desert - the adventures of the Targa possessing its voyage into the reddish-yellow sand.
As the dunes unfolded endlessly into the sun at the festival, Targa shone in all its glory. It is a true testament to Porsche's culture, revealing its need to tread on unknown and unexplored paths.
While the Taycan illustration gave the impression of it reaching new technological heights, the Targa seemed to be entering into a world unexploited and dangerous, yet managing to dominate the scenery with its crimson colour under the afternoon sun and its sharp edges. 
This illustration also found its way to the design festival for Icons of Porsche.


Takeaways


The Dubai Design District brought life to two pieces that I am most proud of and cherish for years to come. The festival aimed at celebrating the legacy of Porsche and bringing the community together for one evening deserved pieces that'd hark the success of Porsche. 
Eminent artists and car enthusiasts who gathered at the event to experience the avant-garde ceremony pushed me to create something out of the box, allowing the experiment to make room in the designing process. 
As someone who can go on for hours and hours about cars and design, I always looked for people inspired by similar things. I wanted viewers to feel connected as if they were a part of the landscape and their passions mattered.
As part of this event, I shared the design space with artists like Jeffrey Docherty and Chris Labrooy, artist I have long followed and admired. 
Jeffrey's insane use of colour and precise use of negative space makes his images command attention, and Chris's crisp, Urbanic, absurd art makes me go wild! 
To be displayed alongside them was something I am genuinely proud of.
Designing has been my passion because it allows me to print out the images in my head to be able to recollect small pieces and details that I want to see in my results. This is as much meditation for me as it is art. 
Having gotten recognition for my work has fueled my passion and validated that I am on the right path. I always hope more people find art that soothes them, consoles them and uplifts them.